Vancouver International Airport
Information for the friends coming on the flight:
Meet and Greet Information Session
If you live in Vancouver or the Lower Mainland, you will meet your group leader and other kids going on the flight on Sunday, October 15th, 2023 at 11:30 am at the Radisson Blu hotel close to Vancouver airport.  If you are coming from out of town, your meeting will be on Tuesday, October 17th at 5:00 pm. You will see a presentation about how your day will go, what to bring, and what to expect.  The "Meet and Greet" is a good chance to ask questions, but if you have questions in advance you can also ask your contact person.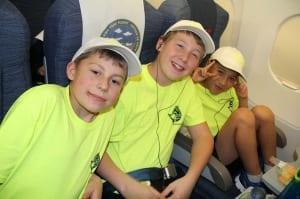 What To Bring
If you take medication, please come with a two or three day supply.
Children must bring their ORIGINAL birth certificate or passport with them.
Adults must bring their passport with them on the flight.
All children will change into their Dreams uniform that will be provided to them when they arrive at the airport. The Group Leader will provide additional hats and fanny packs.
Personal belongings such as electronics and toys should be left at home as they will not be allowed on the flight.
All adults should come dressed in their Dreams Take Flight shirt and capris, pants or shorts.  Hats will be provided.
Arrival and Parking
It is important that you arrive at the Air Canada North Hangar, NOT the airport terminal, no later than 3:45 am as there are many things to do before we leave for Disneyland.
Directions and a map to the Air Canada North Hangar will be provided at the Meet and Greet.
If you are accompanying a child on the flight or dropping a child off at the airport, please park in the "Visitors Parking" at the East Security Entrance (close to the MTU building). Organizers and adult escorts will be provided with a free parking decal for the West Entrance parking lot.
Accommodations in Vancouver (for out of town children only):  Please speak with your Dreams contact for more information.
Proceed to your Disney group name table where you will meet your group and Group Leader.
The aircraft will pull right up to the same hangar and the children will disembark there at the end of the day.
Schedule At Vancouver Airport
Upon arrival at the Air Canada North Hangar at Vancouver airport, please proceed to your Disney group name table where you will meet your group and Group Leader.
If you have medication for your child, please give it to the Group Leader.
Please give your child's original birth certificate or passport to the Group Leader.
The children will be given their Dreams uniforms and will change into them at the hangar.  You are asked to please take the children's personal belongings home with you as there is no place to keep them at the hangar.
At Disneyland
Children will be in groups of five with a group leader, an agency escort and additional adult chaperones. Each group will go through the Magic Kingdom at their own pace.
Meals, snacks and drinks will be provided throughout the day.
Please do not send money with your child as all of their needs will be taken care of.
The group will stay together at all times during the day. There will be enough time to go on several rides and get many character autographs. Think ahead about what your most favourite things to do at Disneyland will be as your group leader will want to know in order to plan the day.
Your group will meet on Main Street at 6:00 pm to begin departure from Disneyland.
Group Leaders will have cameras and there will also be photographers at Disneyland to take group and "action" photos.  The organizers will create a photo album for your memories.
Back In Vancouver
Parents can call the Dreams Take Flight Hotline at (604) 270-5437 for up-to-date flight arrival time.  Our flight number is AC 7182 and you can check our progress online: Air Canada Flight Status . You will pick up your children from the Air Canada Hangar, the same place where you dropped them off in the morning.
Group Pictures
Every child will get a group picture to take home from the trip with more pictures to follow.  Photos will also be uploaded to our website. www.yvr.dreamstakeflight.ca
This is a No Smoking Day – absolutely no tobacco products are allowed!
Check-in of children, volunteers and media at the Air Canada Hangar. All children will receive Dreams Take Flight clothing to wear for the day, including brightly-coloured, high visibility t-shirts.
The 1st bus will depart for the YVR main terminal.  Parents say good-bye at this time.  Teams with all children present will start to go through security and proceed to the gate. Each child will receive a fanny pack stuffed with items that they can use throughout the day.
Flight departure: The plane will depart once all of the children, volunteers, media and special guests are on board and seated.
Arrival at LAX: Groups will deplane together. The groups will be met by Los Angeles-based volunteers and everyone will gather for a group picture on the tarmac, in front of the plane.
Groups board their assigned buses and leave for Disneyland.
Arrival at Disneyland: Leaders will already have tickets and the groups will proceed to the front entrance.  Once inside the park, groups head for their group picture in front of the Castle, and then they set off for their first ride! The children will visit Disneyland in groups of five children and 4 or 5 adult chaperones. The teams will have the opportunity to take in the attractions, the rides, have lunch and get their team and individual pictures taken with a Disney character at Toontown.
Time for the children to shop! The children will be given a gift card loaded with "Disney Dollars" to spend. Canada Customs does not permit the volunteers to bring back any purchased items.
Pizza is picked up at bus pickup and we leave Disneyland.
Flight departure for Vancouver: the children are given Mickey Mouse ears, a fleece blanket and other treats to bring home. Snacks will be served on board.
Arrival in Vancouver: when the teams return to the hangar where their families are waiting for them, each child is each given a Bentley backpack filled with memorabilia to remind them of their magical day.